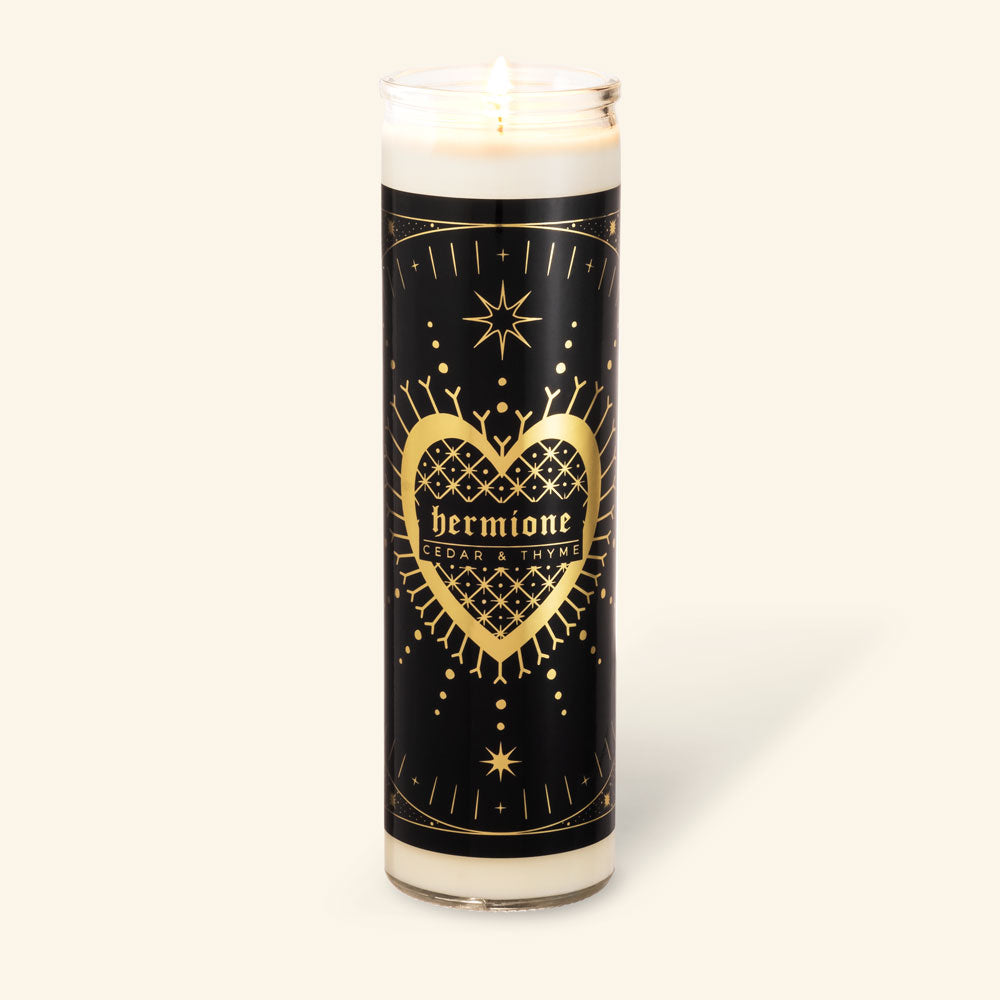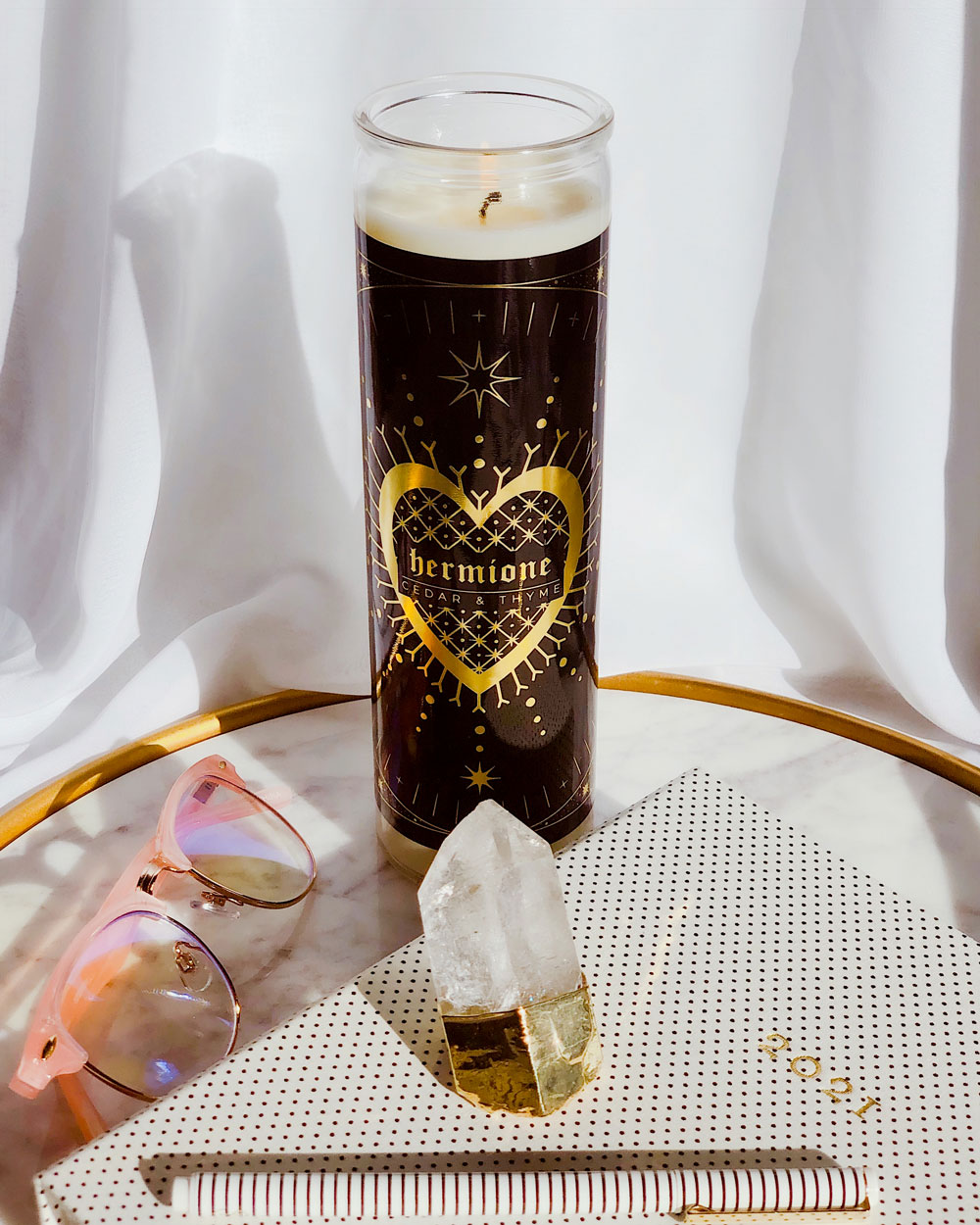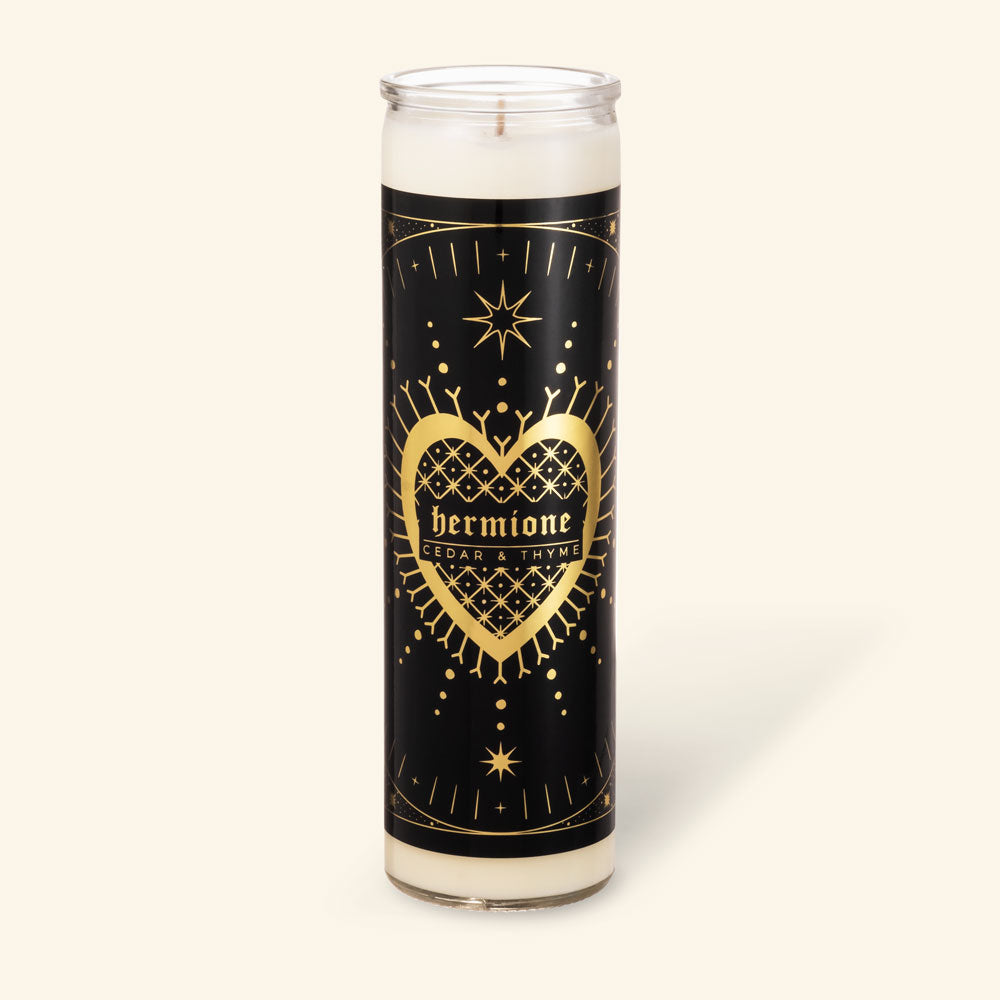 Hermione • Cedar & Thyme Tall Candle
The spell has been cast. Cedar, sandalwood, and pine with a pinch of thyme, a touch of eucalyptus, and a drop of patchouli.
Cozy up to the scent of a campfire, without the hassle. Light up our perfectly blended cedar and thyme candle to relax and enjoy. These earthy scents are sure to leave you with a calm and clear mind, like you have your very own time turner!
Top note is the initial impression of the fragrance, middle note is the main body of the scent, and base is its final impression.

Top: Pine, Eucalyptus

Middle: Wild Thyme

Base: Cedar, Sandalwood, Patchouli
All of our candles contain a high amount of luxury fragrance oils and are well-balanced to appeal to many palates. Check out the Scent Scale to learn more.

Floral: ◻️◻️◻️◻️◻️
Citrus: ◻️◻️◻️◻️◻️
Fruity: ◻️◻️◻️◻️◻️
Fresh & Clean: ◻️◻️◻️◻️◻️
Woody: ◼️◼️◼️◼️◼️
Sweet: ◻️◻️◻️◻️◻️
Spicy: ◼️◻️◻️◻️◻️
140-hour burn time
14 ounces, 2.3" L x 2.3" W x 8.1" H
100% soy wax, cotton wick
Vegan & cruelty-free
Non-toxic & clean burning
Made in New York
Delicious
Hermione is a perfect magical blend of woodsy and herbal. For a candle aficionado this is a must have… especially for completing the coven collection!
Witchy
Perfect scent to light while doing a tarot reading!
I love this candle!!
I've been DYING to get my hands on hermione FOREVER and I'm so glad I finally did! This candle smells absolutely amazing and I love the look of it on my bookshelf