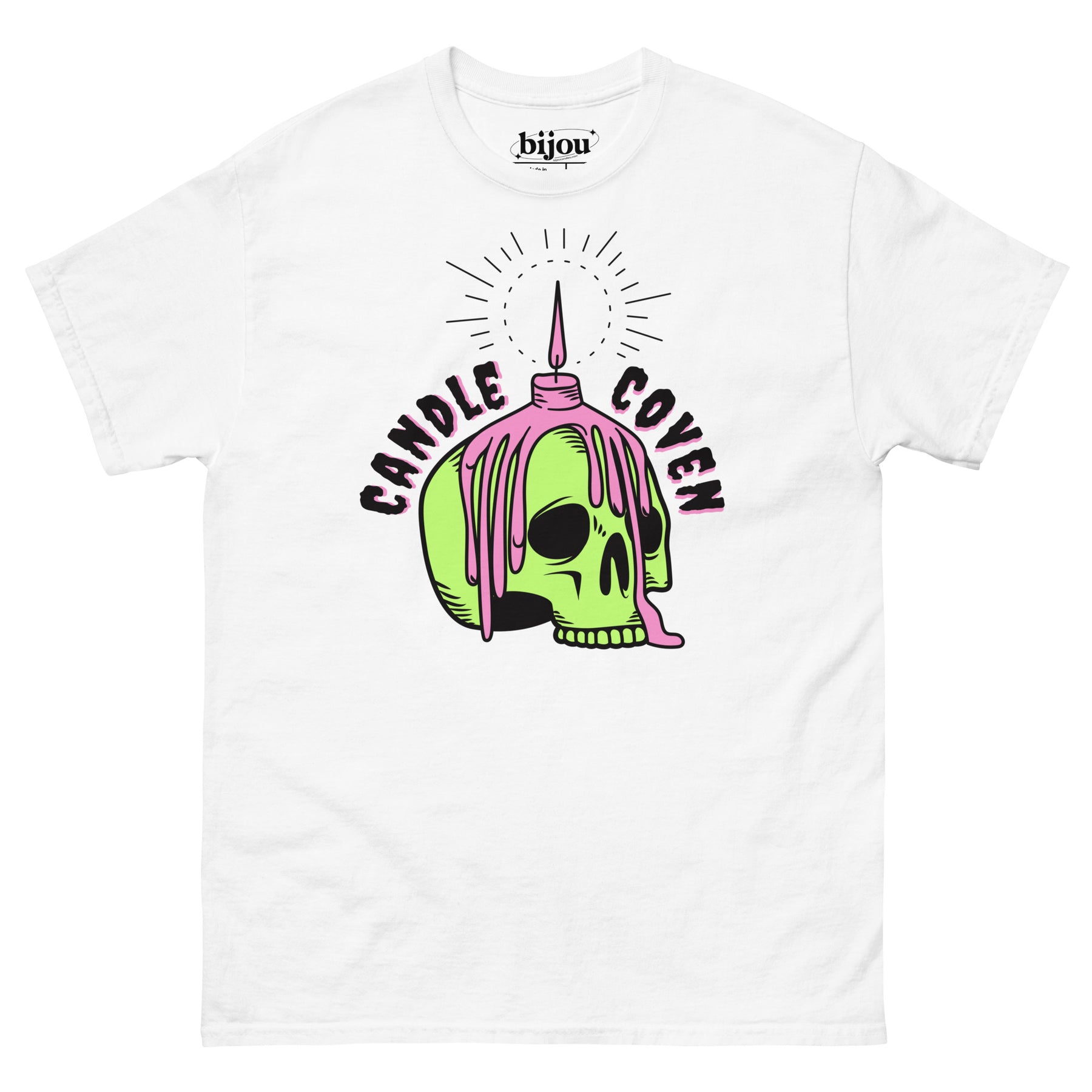 Candle Coven Skull T-Shirt
Elevate your aesthetic with this exclusive tee, an open invitation to the inner circle of The Candle Coven – a group of passionate candle enthusiasts and pop culture aficionados. Crafted for those who appreciate the art of scented candles and the allure of iconic figures like Dolly Parton, Stevie Nicks, and Billie Holiday. This white cotton tee rocks a green skull with a melting pink candle – a hip nod to our shared love for candles and culture.
Whether you're binging on our Podcast's pop-culture banter or infusing your space with our captivating candles, this 'Candle Coven Skull T-Shirt' channels the essence of unity and creativity. It's not just a tee; it's a bridge connecting you to a community that celebrates the magic of both conversation and candlelight. 
SMALL
Body Length: 28"
Body Width: 18"
Sleeve Length: 15 ⅝"

MEDIUM
Body Length: 29"
Body Width: 20"
Sleeve Length: 17"

LARGE
Body Length: 30"
Body Width: 22"
Sleeve Length: 18 ½"

XL
Body Length: 31"
Body Width: 24"
Sleeve Length: 20"

2XL
Body Length: 32"
Body Width: 26"
Sleeve Length: 21 ½"

3XL
Body Length: 33"
Body Width: 28"
Sleeve Length: 22 ¾"
• 100% cotton
• Fabric weight: 5.0–5.3 oz/yd² (170-180 g/m²)
• Open-end yarn
• Tubular fabric
• Taped neck and shoulders
• Double seam at sleeves and bottom hem