In honor of this year's Met Gala theme, "Camp: Notes On Fashion," we've been revisiting some of our favorite campy films that help to define the genre.  As cultural historian Andy Medhurst put it, "Trying to define camp is like attempting to sit in the corner of a circular room." To try and put it succinctly, camp is an aesthetic or sensibility that is regarded as appealing because of its bad taste and sense of irony (read: it's so bad, it's good). Camp has always be synonymous with gay culture and is one of Bijou's hugest inspirations (hello Bette Davis in What Happened To Baby Jane). Without further adieu, let's revisit some of our fave films of camp's past. 
No camp list is complete without this 1975 cult classic. This movie was hugely influential to me and is legitimately my mother's favorite movie (the apple, she don't fall too far from the tree).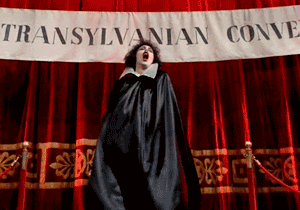 Plot points include an alien doctor, dressed in full lingerie, from planet Transexual, Transylvania, living in a castle (that, we find out, doubles as a rocket ship) who builds his own version of Frankenstein's creature. In this case, it's the perfect muscle man, complete with impossibly small gold bikini bottoms, blond hair and a tan. Oh, and did I mention it's a musical?
Camp Rating: 5 out of 5 Time Warps
In small town Minnesota the Mount Rose American Teen Princess Pageant is a cut throat competition. It's so cut throat, that contestants are showing up dead. Amber Atkins is determined to win and become the next Diane Sawyer, even in the face of death. This film has everything - midwestern accents, Kirstie Alley, tap dancing in a morgue, lee press on nails and mass food poisoning from bad shellfish.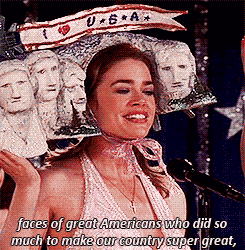 There's almost no where to watch it online which is truly a crime against humanity. If you find a way to watch this gem, RUN, don't walk!
Camp Rating: 5 out of 5 Tap Costumes 
Meryl Streep and Goldie Hawn, do I even need to say more? (I mean I will, because I have a lot to say, but honestly you get the picture already.) Two rivals drink a magical potion that promises to be the fountain of youth. While they no longer age, they also can't die and they basically become walking corpses who continually murder each other and then glue themselves back together for eternity.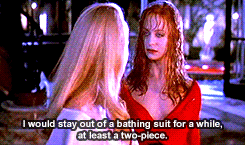 It's...light hearted.  
Camp Rating: 5 out of 5 Isabella Rossellinis
If you haven't seen Showgirls then you need to get on that immediately. It will change you as a person. I can't say if it will change you for the better, but you will be...different. This movie is rated NC-17 which was a clear departure from Elizabeth Berkley's Saved By The Bell days.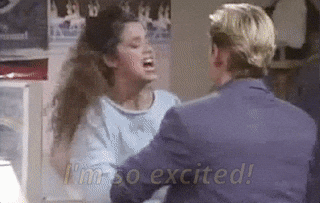 Elizabeth plays Nomi Malone, a mysterious drifter with dreams of becoming Vegas' star showgirl. There's cat fights, there's thrusting, there's sabotage, there's a sex scene in a pool that honestly scarred me for life, there's Kyle Maclachlan's hair. This is a must see.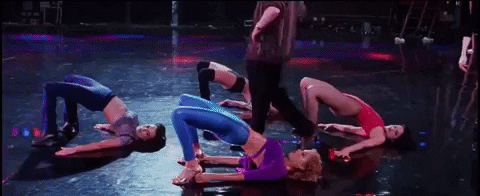 Camp Rating: 5 out of 5 Bottles Of Cristal
Mommie Dearest is considered a camp heavyweight, detailing the traumatic childhood of Joan Crawford's adopted daughter, Christina. This movie can be summed up in the infamous wire hanger scene.  Joan mildly enters her sleeping daughter's bedroom in a dressing gown, with her face plastered in cold cream. While delicately perusing her daughter's PRISTINE closet, she discovers a lone wire hanger. She flies into a rage so intense, "No wire hangers. EVER", that I don't even think the viewer comes out unscathed.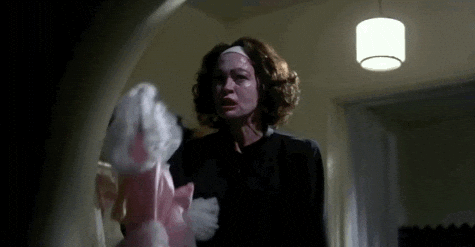 I mean, it's actually an atrocious piece of work and that's what makes it so damn good.
Camp Rating: 5 out of 5 Wire Hangers
Honorable Mentions