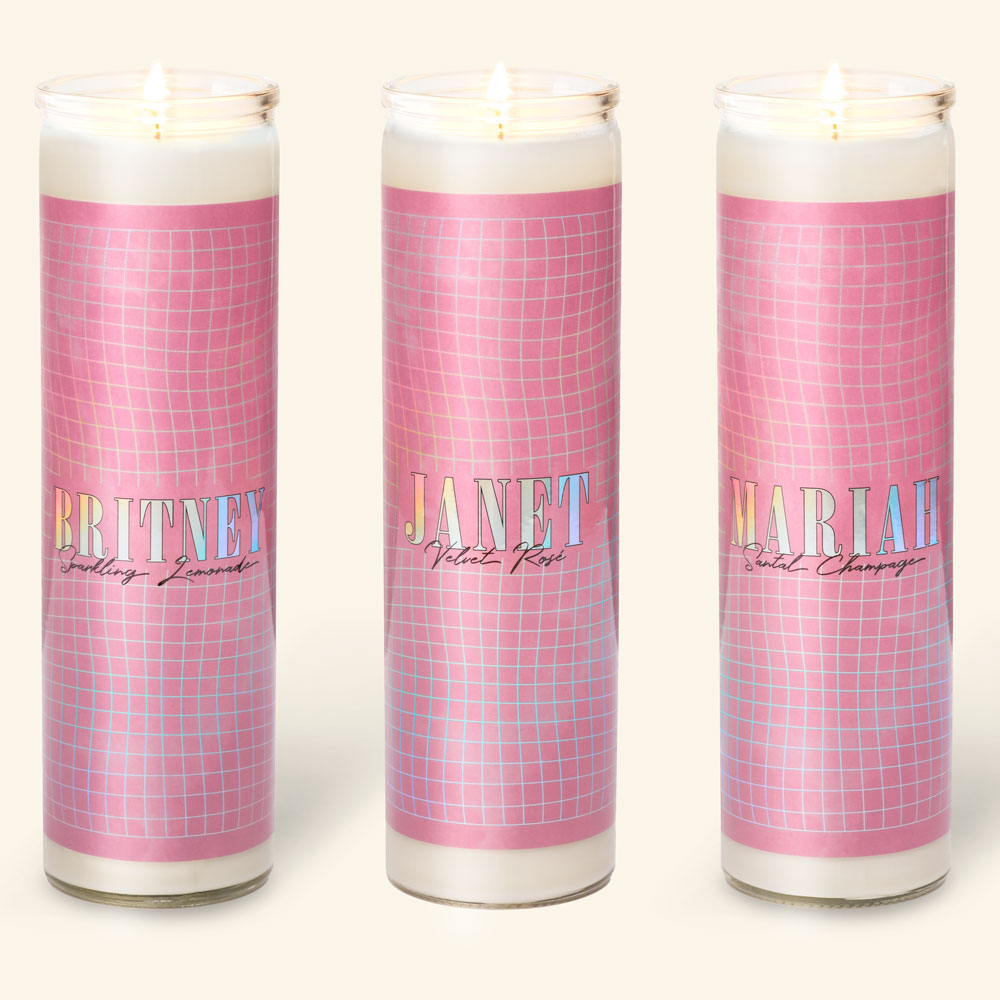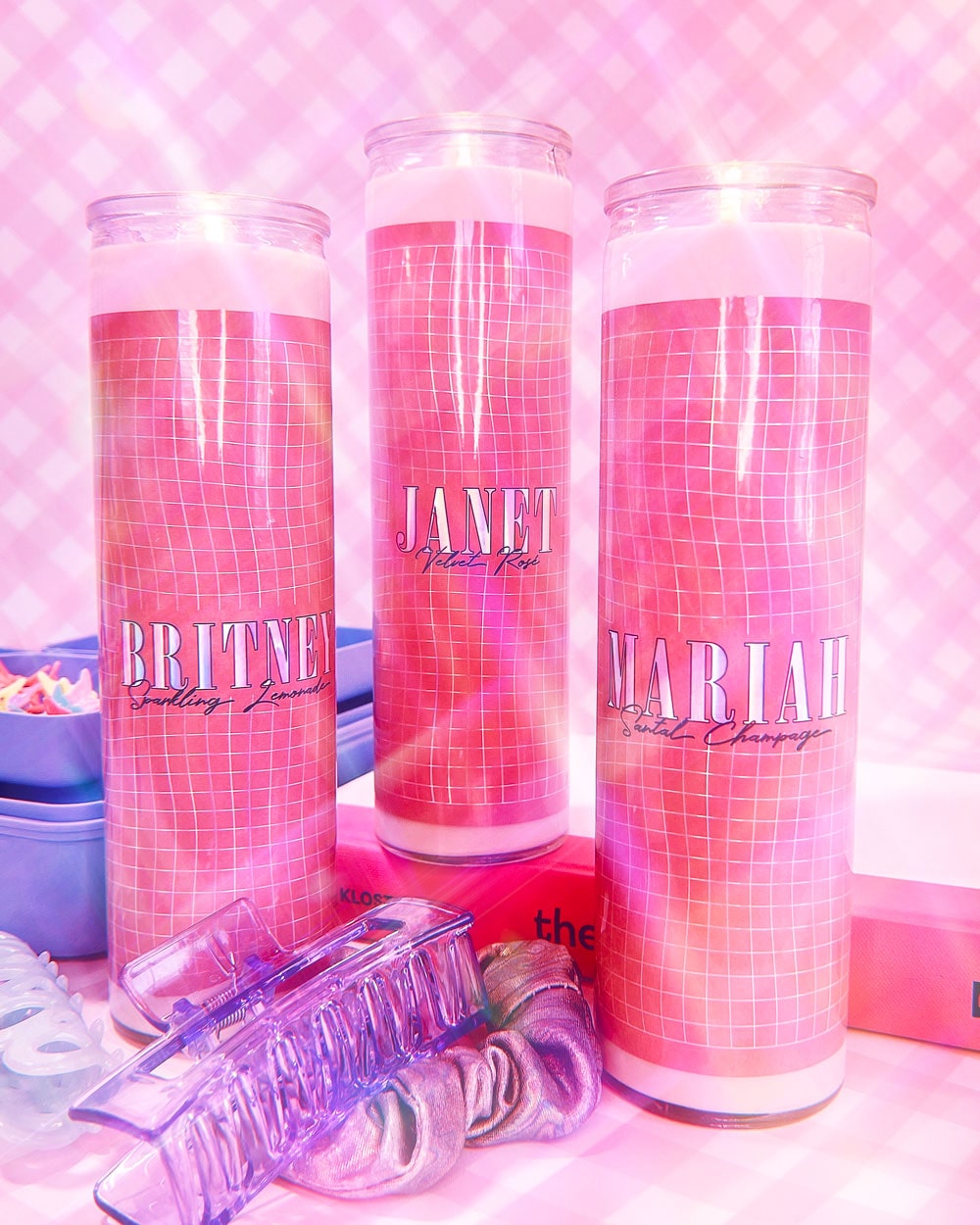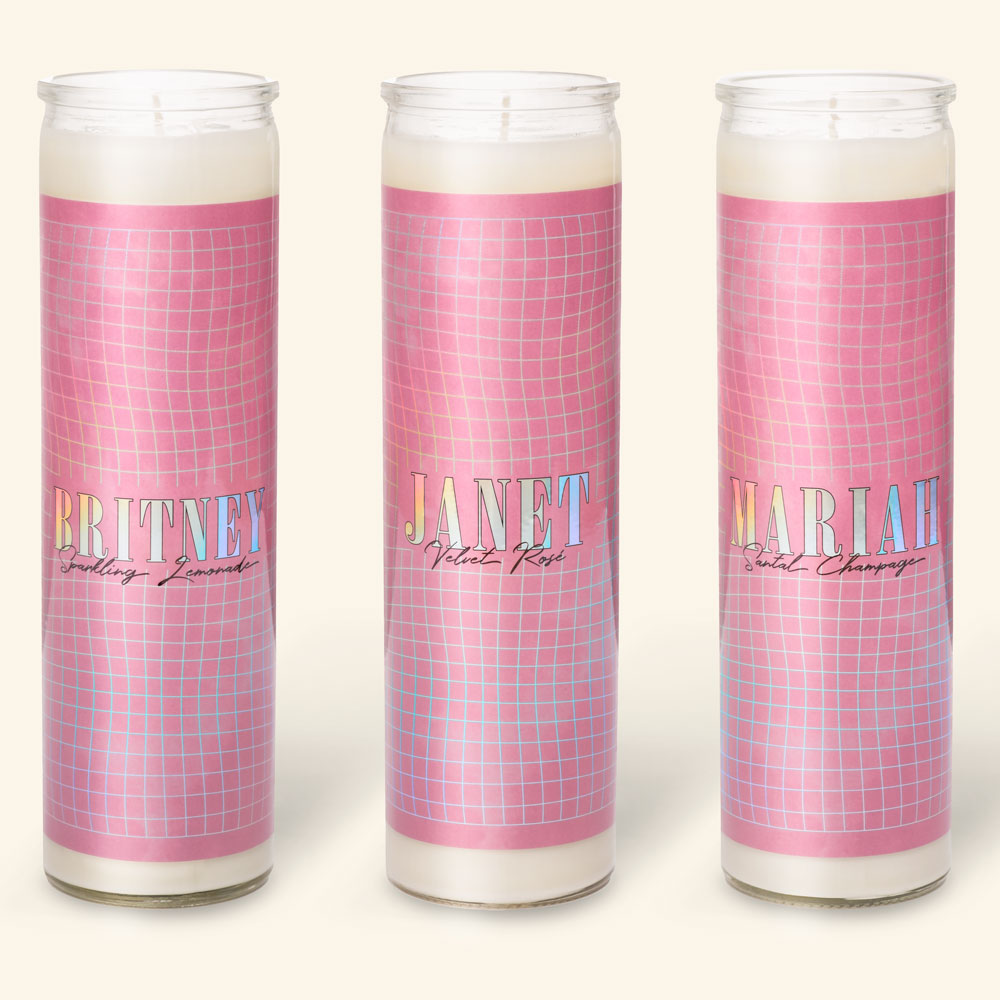 90s Icons Tall Candle Set
These holographic candles are perfect for living the dream of the 90s with over 140 hours of burn time each. The three candles included are inspired by our favorite 90s icons, Britney, Janet, and Mariah. Scents of sparkling lemonade, velvet rosé, and santal champagne will help you live out your body glitter dreams.
Britney • Sparkling Lemonade
Oh baby, baby. A sparkling pop of sweet lemon twirls with dreamy white florals. The nectar of fresh orange blossom shimmies with hints of vanilla. A warming musk undulates at the base – Oops!...We did it again.
Janet • Velvet Rosé
The first sip of sparkling rosé –fruity, floral with just a touch of sweetness. A kiss that lingers, the taste of candy. Something intoxicating fills the air, slightly herbaceous and green. The velvet embrace of amber and musk. That's the way love goes.
Mariah • Santal Champagne
A vision of love. Bright bergamot dances with papaya and pineapple. Effervescent notes of jasmine, lily, and rose. Sandalwood glitters throughout, setting the mood. The soft hum of cardamom and musk whisks you away. We belong together.
A nostalgic vibe
Love the look of these on display. Each candle in the set has a very different smell to suit all my moods, so it's hard to pick a favorite! They fill a room with their sweet scents and lit together perform beautifully.
IN LOVE.
LISTEN! These are by far some of the best candles I have ever ordered. This is my second or third time ordering this set, and I am obsessed. I love how the creators have developed scents that truly match the 90s Icons, plus it's nice to have a variety of candles, because one day I feel like Janet, another day I feel like Britney, and other days I want to be a diva like Mariah. Definitely 100% recommend, especially if you are truly living a soft girl era or peaceful phase in your life.
Variety of Scents
This set has something for everyone, no scent is similar. The Britney candle is my favorite, it's the sweetest :) Mariah is the strongest most mature scent, and Janet falls somewhere in between. Now we need an 80's Icons Set!