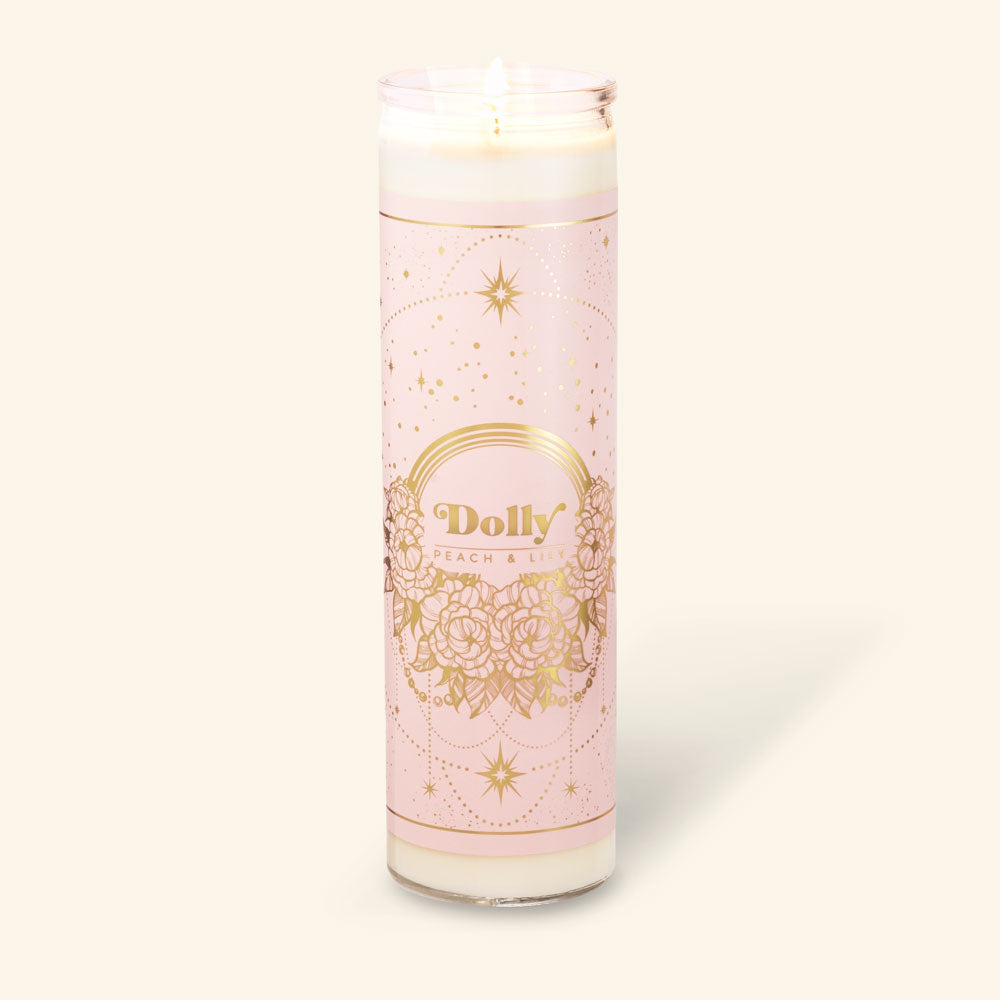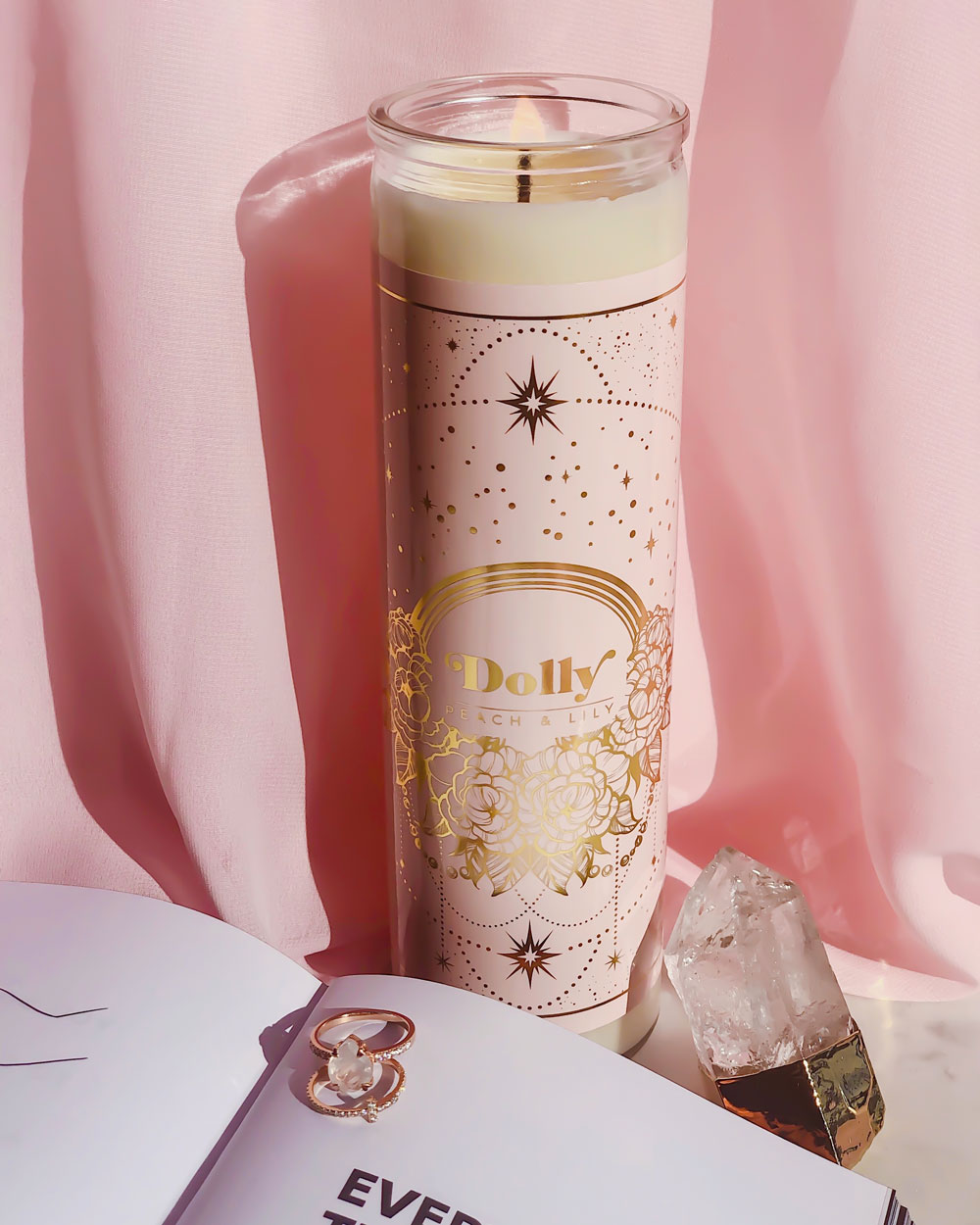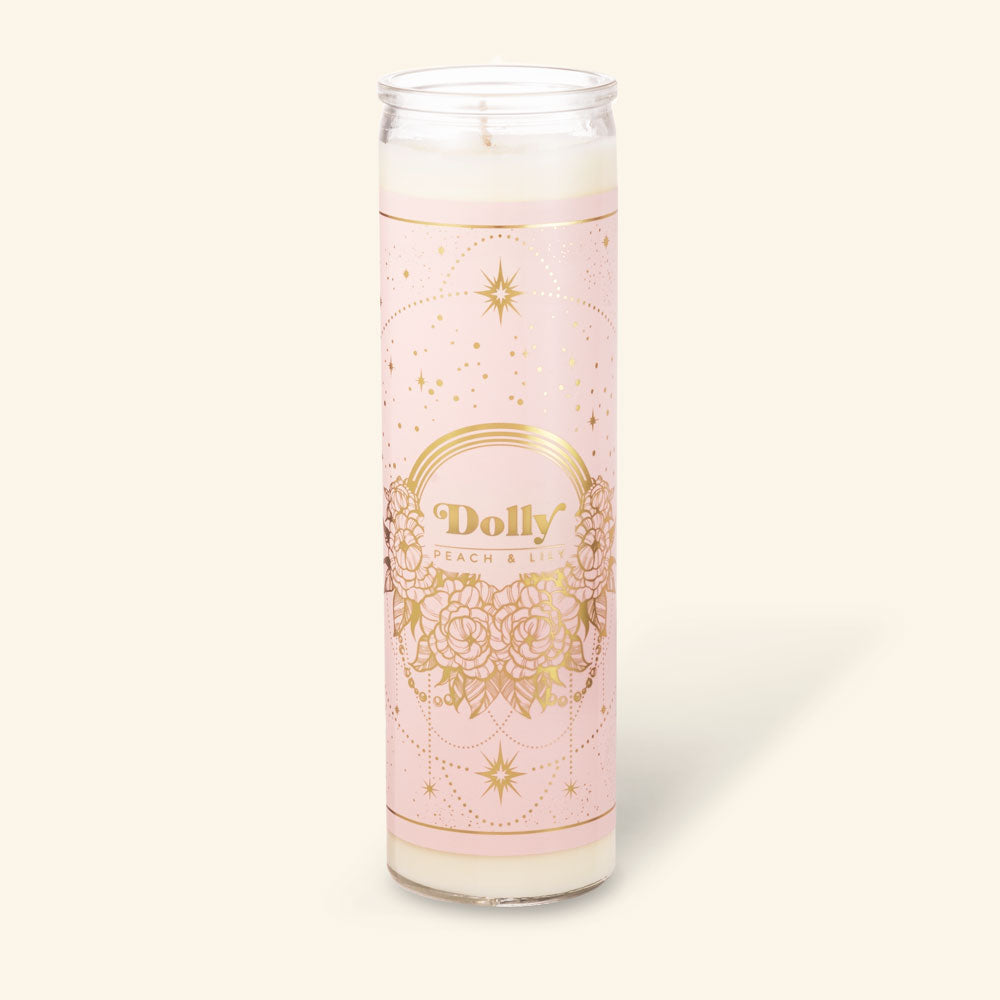 Dolly • Peach & Lily Tall Candle
I-I-I will always love you. Juicy peach, lily of the valley and (steel) magnolias combined with ginger, cardamom and a hint of tangy grapefruit.
A burst of juicy peach combined with floral lily of the valley make for the perfect pair! Crafted to have a fruity and sweet aroma with hints of spicy ginger and cardamom. You'll love this peach and lily candle that is both refreshing and uplifting, just like the Queen of Country. 
Top note is the initial impression of the fragrance, middle note is the main body of the scent, and base is its final impression.

Top: Grapefruit, Lily of the Valley

Middle: Peach, Magnolia

Base: Ginger, Cardamom
All of our candles contain a high amount of luxury fragrance oils and are well-balanced to appeal to many palates. Check out the Scent Scale to learn more.

Floral: ◼️◼️◼️◻️◻️
Citrus: ◼️◼️◼️◻️◻️
Fruity: ◼️◼️◼️◼️◼️
Fresh & Clean: ◼️◻️◻️◻️◻️
Woody: ◻️◻️◻️◻️◻️
Sweet: ◼️◼️◼️◼️◻️
Spicy: ◻️◻️◻️◻️◻️
140-hour burn time
14 ounces, 2.3" L x 2.3" W x 8.1" H
100% soy wax, cotton wick
Vegan & cruelty-free
Non toxic & clean burning
Made in New York
Tall Dolly
I got the short candle and had to get the tall one too! Scent is perfection & they are so pretty!
I'm in Love!
I'm so happy I bought this candle. It looks amazing in my house and it smells even better! I've shared Bijou with so many people now and I'm excited about giving this candle to one of my best friends as a gift too.
Dolly is that B
This is a true classic of this brand of candles. Please do not discontinue or you will lose a loyal customer. Dolly is the HBIC!!!