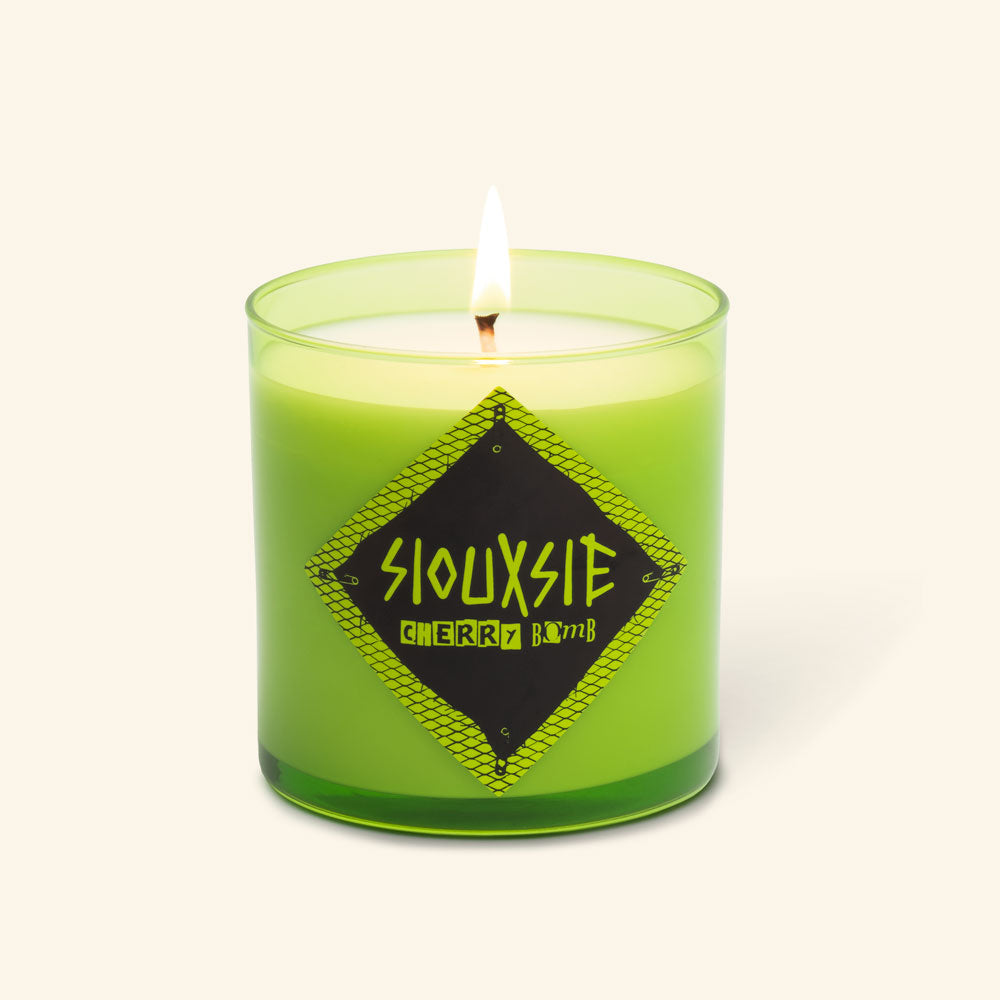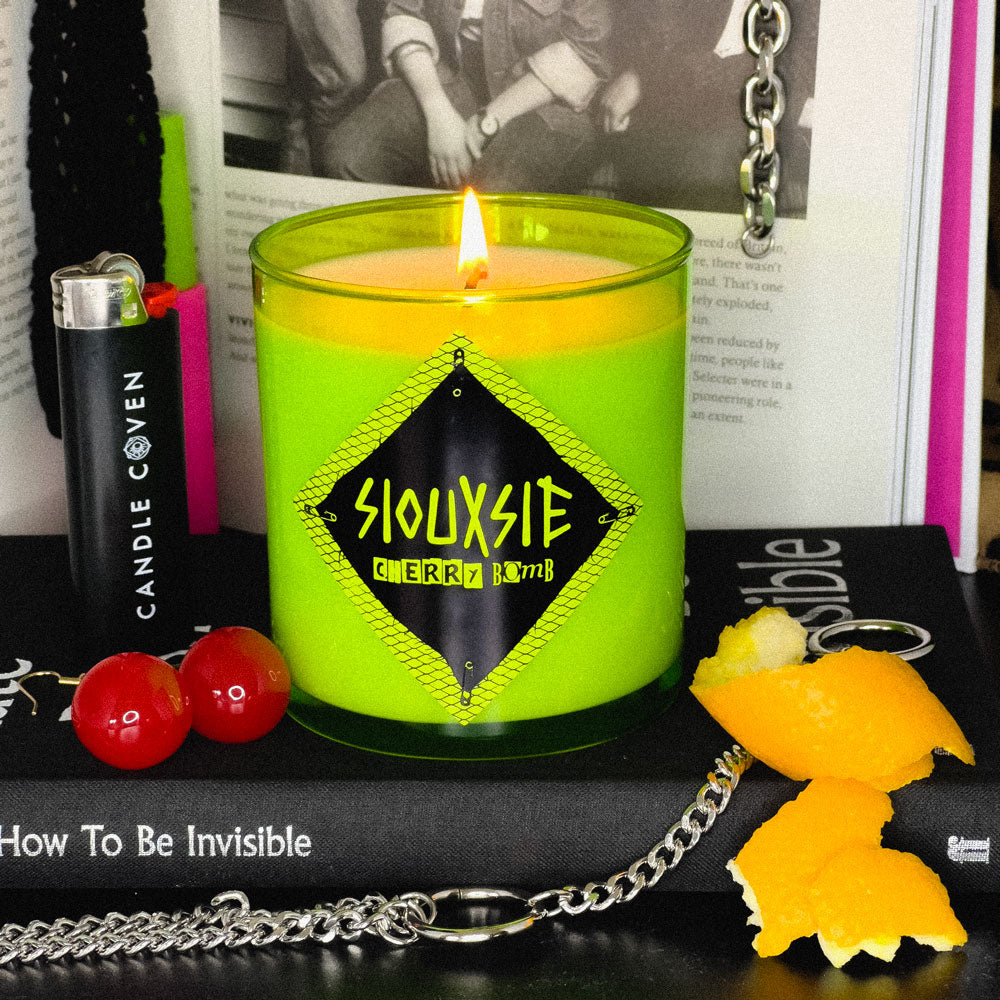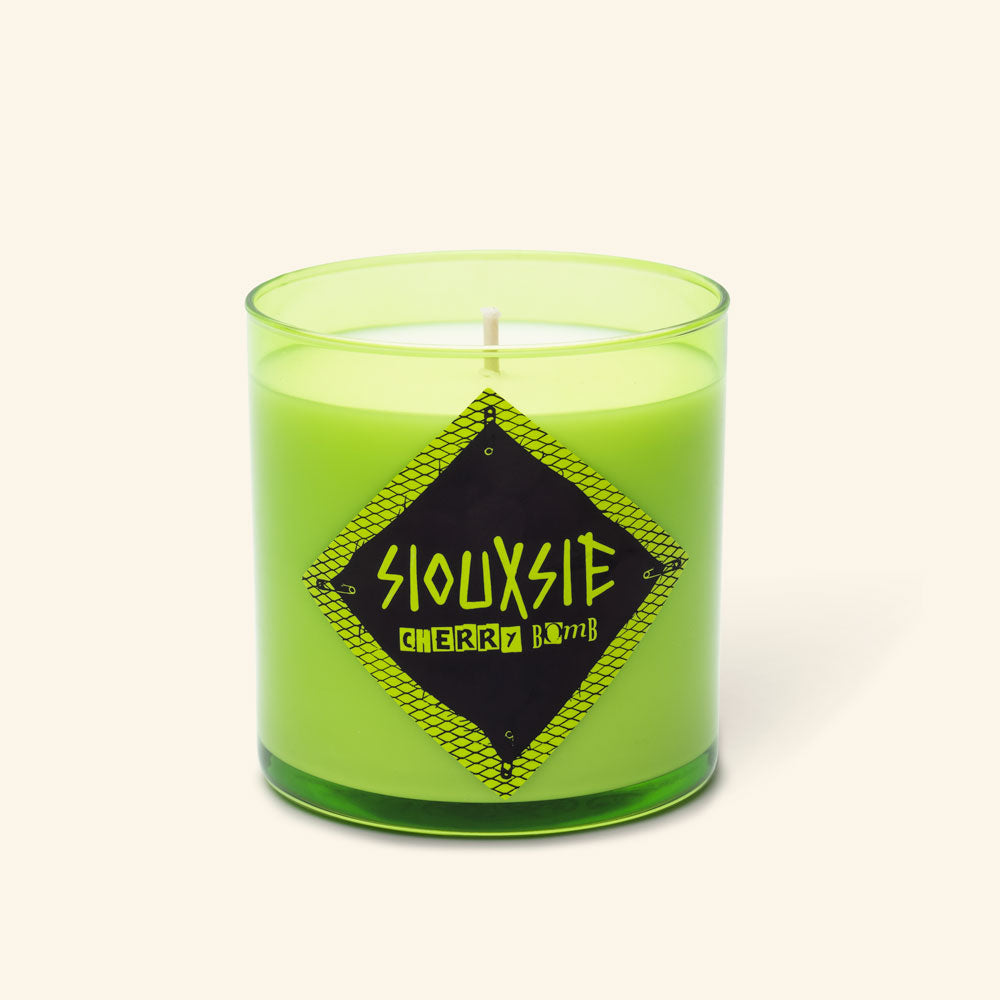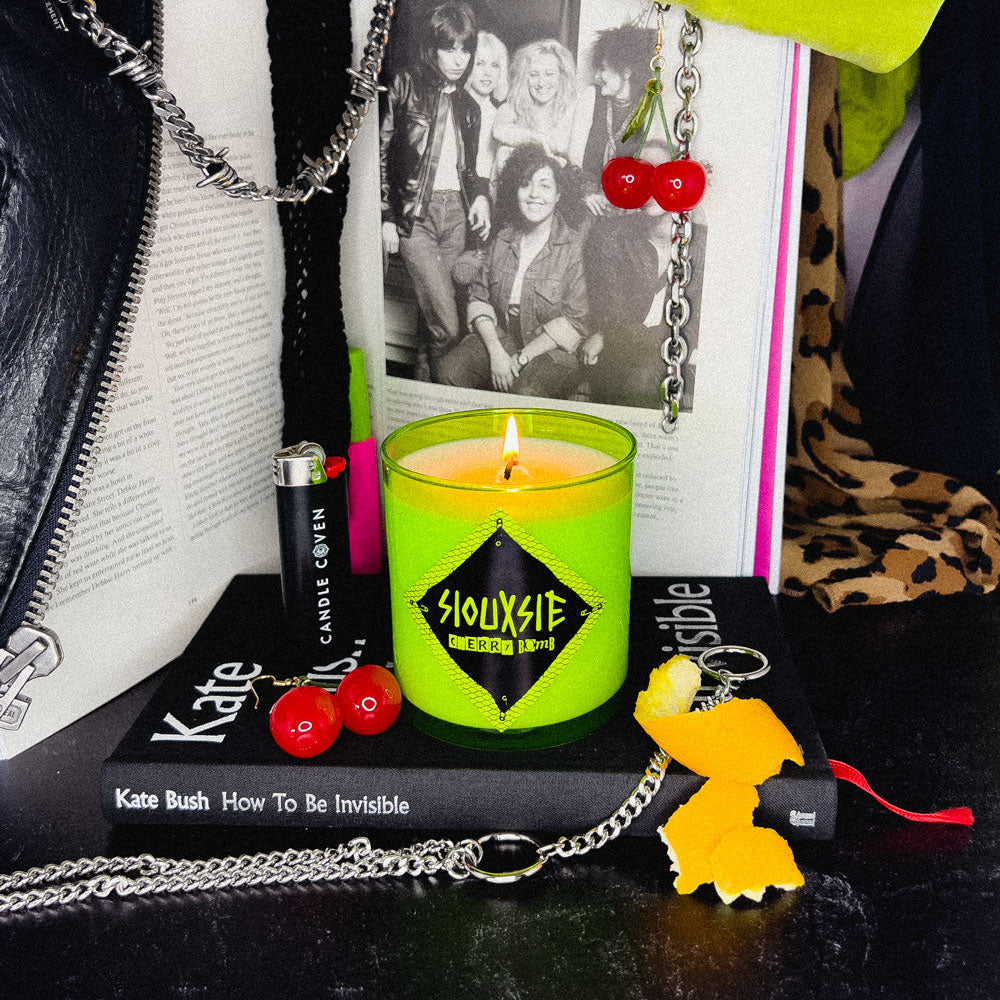 Siouxsie • Cherry Bomb Candle
A jamboree of strawberry, orange and dark cherry.
Unleashing scent of blond woods.
Entranced by gardens of heliotrope and rose.
Spellbound.
Step into the enchanting realm of Siouxsie Sioux with our candle inspired by her mesmerizing presence. Siouxsie's Cherry Bomb Candle unveils a jamboree of succulent strawberry, zesty orange, and dark cherry, entwined with the allure of blond woods. Immerse yourself in the gardens of heliotrope and rose, as this spellbinding fragrance transports you to a world of mystique. Let this captivating aroma fill the air, awakening your senses and invoking the enigmatic spirit of Siouxsie Sioux. 
Top note is the initial impression of the fragrance, middle note is the main body of the scent, and base is its final impression.

Top: Sweet Orange, Strawberry, Fresh Greens

Middle: Dark Cherry, Heliotrope, Rose

Base: Cedarleaf, Blond Woods
All of our candles contain a high amount of luxury fragrance oils and are well-balanced to appeal to many palates. Check out the Scent Scale to learn more.

Floral: ◼️◻️◻️◻️◻️
Citrus: ◼️◼️◼️◻️◻️
Fruity: ◼️◼️◼️◼️◼️
Fresh & Clean: ◻️◻️◻️◻️◻️
Woody: ◼️◻️◻️◻️◻️
Sweet: ◼️◼️◼️◻️◻️
Spicy: ◻️◻️◻️◻️◻️
65-hour burn time
10 ounces, 3.5" L x 3.5" W x 3.125" H
100% soy wax, cotton wick
Vegan & cruelty-free
Non-toxic & clean burning
Made in New York
The Punks
Sweet, dark, sour, and mysterious. Siouxsie holds down the punks.
Spellbound🪄🍒
Amazing smell! Will make you feel like a baddie, bold yet also subtle in a way scent
Don't sleep on this collection!
I originally slept on this collection when it was first released because I was scared of them being too sweet, but I should have trusted that Bijou would not disappoint! I thought this and Poly would be my least favorite, but I may enjoy them even more than Patti (but I love each for different reasons). Don't make the same mistake as me and regret not adding to your collection sooner!