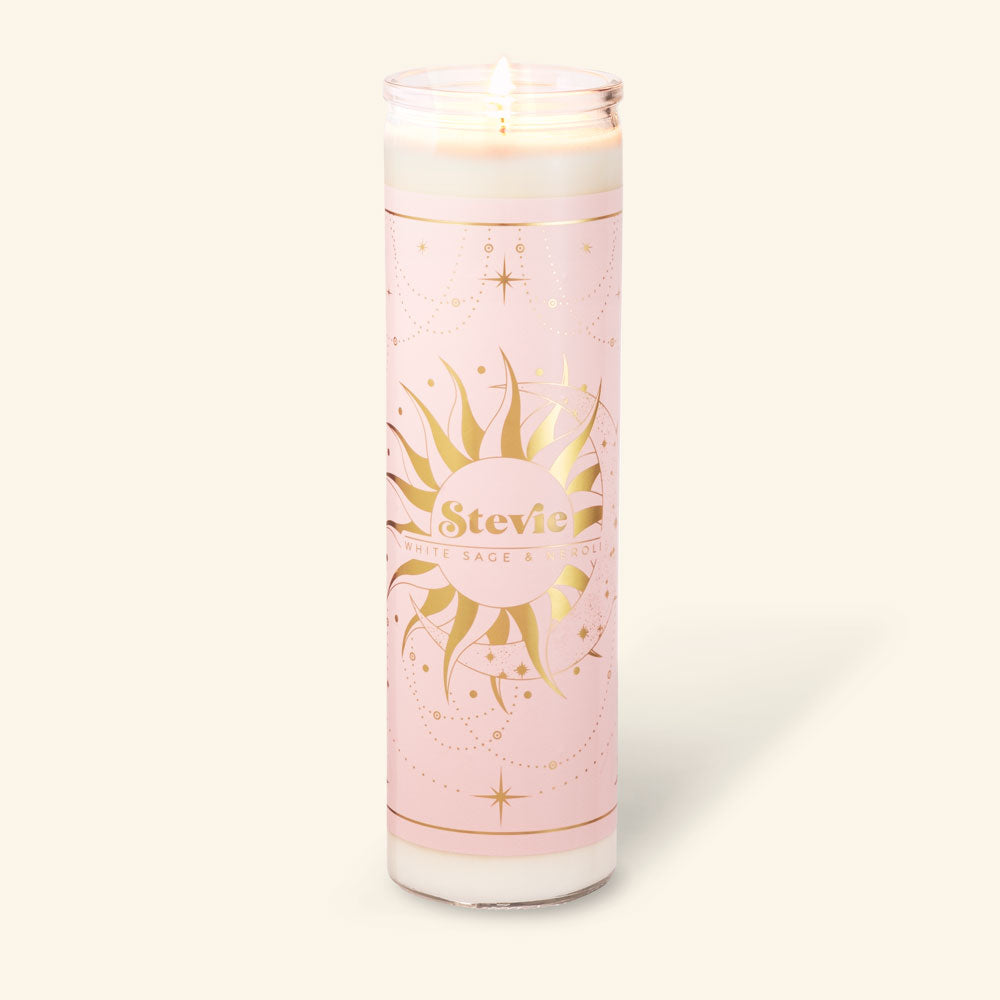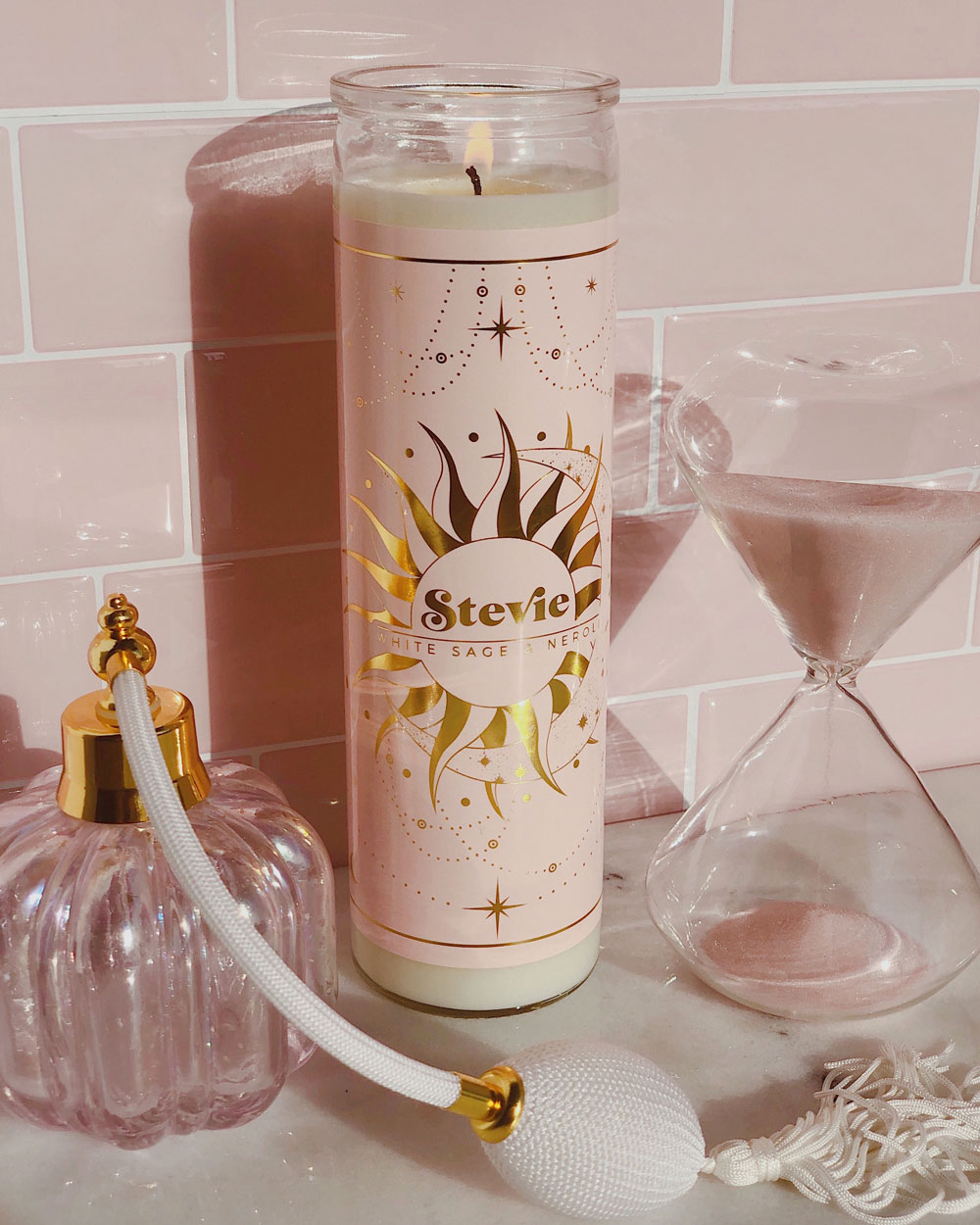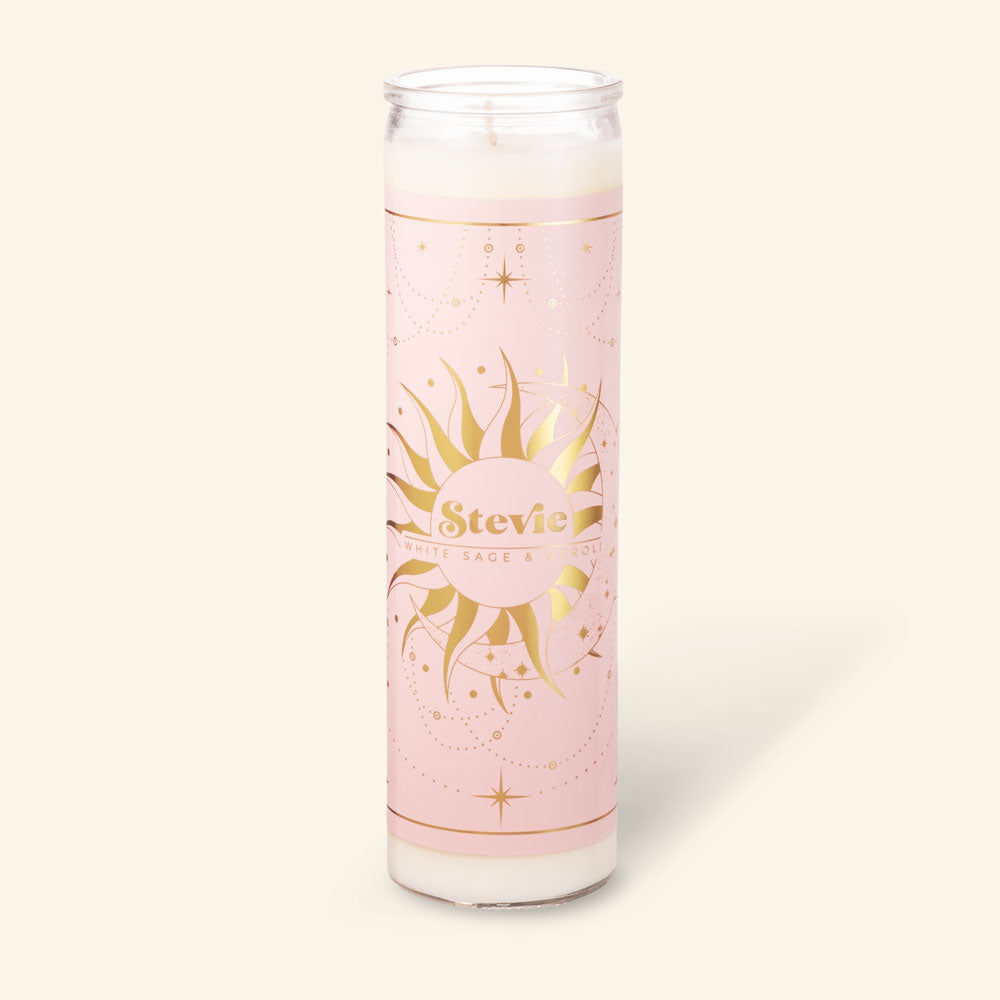 Stevie • White Sage & Neroli Tall Candle
Rock on, gold dust woman. Earthy white sage and sweet neroli finished with a chord of jasmine, violet and musk.
Inspired by the magical Stevie Nicks, this unique blend of woody white sage and sweet neroli will have you coming back time and time again. Perfect for everyday use to cleanse your space, our white sage and neroli candle helps you unravel all your worries so you can bask in the freshness of this earthy yet floral scent. 
Top note is the initial impression of the fragrance, middle note is the main body of the scent, and base is its final impression.

Top: Neroli, Violet

Middle: White Sage, Jasmine

Base: Musk
All of our candles contain a high amount of luxury fragrance oils and are well-balanced to appeal to many palates. Check out the Scent Scale to learn more.

Floral: ◼️◼️◼️◻️◻️
Citrus: ◼️◼️◻️◻️◻️
Fruity: ◻️◻️◻️◻️◻️
Fresh & Clean: ◼️◻️◻️◻️◻️
Woody: ◼️◼️◼️◻️◻️
Sweet: ◼️◼️◻️◻️◻️
Spicy: ◻️◻️◻️◻️◻️

140-hour burn time
14 ounces, 2.3" L x 2.3" W x 8.1" H
100% soy wax, cotton wick
Vegan & cruelty-free
Non-toxic & clean burning
Made in New York

Truly magic ✨
OBSESSED with my new candles!!! Stevie is not only a fave artist of mine, her candle namesake is heavenly smelling and super scent saturated. I also got Kate (after another favorite, Kate Bush) and this one is equally as fragrant and amazing. First time purchasing Bijou candles and I will 100% be back for more!
Favorite candle!
Stevie is an all-time favorite! I have given it to friends for gifts, and they are all hooked on Stevie now too. Love it in the tall size!
Beautifully blended and sophisticated.
I love this one - I don't become nose blind to it but it's a very calming scent that doesn't overwhelm and give me a headache like some fragrances do. I would definitely repurchase this one.